Home
>>
Products
>>
Pumps
>>
Polypropylene Series
>> Vertical Seal Less Pump
Other Polypropylene Pumps :
Low Capacity Pumps
>>
High Speed Pumps
>>
Altra Pumps
>>
High Capacity Pumps
>>
Priming Pot
Vertical Seal Less Pump
Heavy duty engineered polypropylene sump-pump for primery effluents / corrosive liquids and scrubbing systems.
Zero maintenance pumps, eliminates the need for gland packing and seal
Leak proof and can run dry without damage of rotating parts
Pumps to be mounted out side the suction tank in vertical position and not to be submerged
Vertical gland less pump, similar in hydraulic design to any conventional centrifugal pump, it differs in, so far as restriction is provided, escape by way of an overflow connection in the upper pump body & return to the suction line
Preferred selection for E.T.P. Plant because of seal less design
Pump is seal less hence can run dry
Minimum component makes maintenance easy
Low maintenance cost and prolong life
Technical Specifications :
Model
Suction in mm
Delivery in mm
Impeller Dia in mm
HP
RPM
Head in M
Cap in m3/hr
VGL - 100
50
25
100
1
2900
7/11
8/9
10/6
11/5
12/3
13/00
VGL - 120
50
40
120
2
2900
10/24
12/20
14/16
15/12
16/08
18/00
VGL - 150
40
40
150
3
2900
24/00
22/3
20/5
18/10
15/20
10/26
VGL - 160
75
40
160
5
2900
31/00
26/12
25/15
20/25
15/30
10/35
Ideally recommended for transfer of treated effluent
No mechanical seal / glands, hence pump can run dry
Low maintenance cost and easy to maintain
M.O.C. PP - UPTO 550- 600 C
PPH - UPTO 90 01000 C
PVDF - UPTO 100 0 - 1100 C
We are fully committed to providing the finest pumps, the best engineering, the most effective customer service & the greatest after sales support possible.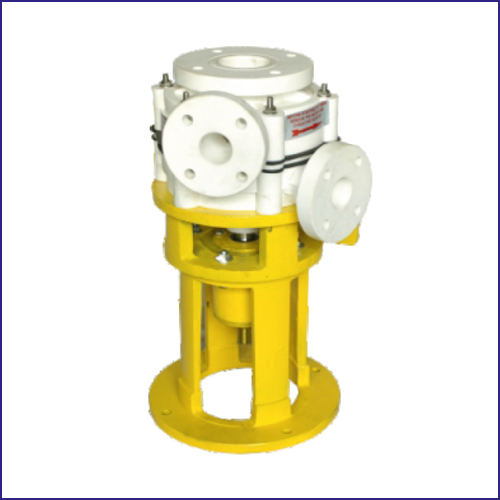 The entire carbon filled teflon bush bearing which is located in the back place must be submerged in the pumping fluid at all times.
Dosing Pump
LDPE Tubling
Spring loaded injection valve
Self balanced Root valve
HDPE tank with level swifter
Antisiphoning / Back pressure valve
Automatic flow controller
Water and Effluent treatment
Cooling water treatment
Controlled sampling of liquids
Antiscalent dosing
All pumpable chemicals in processes
Positive Metering

The vital parts in the SC- Series pumps are

» Housing
The robust, sturdy housing of our pump is made out of stainless steel, Hastalloy, Cast iron, Titanium etc. The selection of the material depends upon the liquid Characteristics.

» Stator
It plays a very important role in the overall performance & life of the pump It is made out of Natural rubber, Neoprine, Nitrile, Viton, PTFE, Hypalon.

» Rotor
Normally hardened and chrom plated or stainless steel. Also rotors can be made out of Hastalloys, PTFE, Titanium depending upon the liquid to be handled.

» Universal joint
Its a very specially designed so as to offer increased service life with absolutely low replacement cost.

Our SC- Series pumps are tested in a highly sophisticated testing arrangement to check the efficiency of each pump.
Concieved by Mr. Gyan P. Agrawal
---
Copyright © Seemsan Pumps and Equipments Pvt. Ltd. All Rights Reserved
Powered By Indian Business Hub